History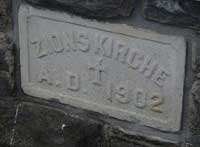 1900 – 2021
Zion Evangelical Lutheran Church began as the Zion German Evangelical Church. The first building was constructed in June 1902 and was completed in 1903 on land donated by Mr. William E. Sessions, a local businessman who employed many of the men at his foundry. The sanctuary was dedicated October 12, 1902.
Mr. Sessions donated the land, and also the site plan, the excavation and the foundation to help further advance the small church which had a voting membership of 34 at the time of the construction.
Zion as a congregation began as a German language church, and many of the initial members were related to each other. Later as more Protestant immigrants came to America from Germany, Poland, Russia and other European countries, the church grew and embraced many newcomers.
The first Pastors of Zion were:
1900 – M. Gaudian
1909 – H. Voigt
1914 – J. Beussel
1920 – M. Baum
1922 – J. Jestinsky
1933 – G. Hackinschuh
1934 – J. Schulze
In the modern era, the Pastors were:
1950 – Wolfgang Fleming
1951 – Harry Munn
1952 – Robert Flectner
1958 – Charles Lomperis
1959 – Robert Diefendorfer
1962 – Edwin Kimm
1965 – Roy S. Lahet
1968 – Rolf Lundmark
1970 – Paul Hrdlicka
1977 – Andrew E. V. Krey
More recently, the Pastors were:
Rod Rinnell
William Baumgartner
Cyril Wismar
Carl Kramer
Nancy Thomas
Anne Marie Meyerhoffer
Holger Lundin
Robert P. McGurn
Edward F. Duffy